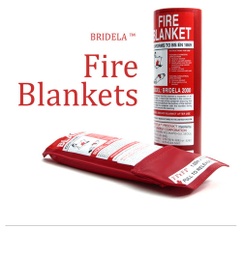 Bridela Fire Blanket
---
30-day money-back guarantee
Buy now, get in 2 days
Bridela Fire Blankets
The BRIDELA fire blankets fully comply with the requirements of the British/European standard BS EN 1869 and have been independently tested and certified accordingly. It is available in a variety of standard sizes and has the added benefit of over 25 years of fire protection experience behind it.
Efficiently packaged in a choice of containers (flat-pack or tube pack) for domestic or industrial use, these fire blankets, when draped over a fire, smother the danger by starving the fire of oxygen.
The BRIDELA fire blankets can also be used to wrap around a person whose clothes are on fire.
Suitable for use in a variety of different environments including kitchens, factories, offices, caravans, stores, schools, restaurants, hotels, boats, nursing homes, shops, laboratories, etc.
Product independently tested and certified to BS EN 1869
Blanket made from silicone-coated woven glass fiber fabric(totally asbestos-free)
Containers can be wall-mounted
Easy and quick withdrawal of blanket from container
Competitively priced
English and/or other language instruction labels available
Customer's own name label can be appended
Clear pictorial instructions
Manufactured in the United Kingdom
Specifications for Bridela Fire Blanket
Size

1.80m x 1.50m - (6' x 5')

or

1.80m x 1.80m - (6' x 6')

or

1.00m x 1.00m - (3'3" x 3'3")